Ready to Move on from Your Current Honda? Trade-Up to a New Honda at Ourisman Honda of Tysons Corner with $0 Down, Same Payment

Let's exchange keys! The Ourisman Honda Honda of Tysons Trade Up Program is a vehicle exchange program that allows you to upgrade to a safer, newer and more reliable vehicle while keeping the same or even lower monthly payments with ZERO MONEY DOWN! Perhaps your ownership of a Honda is getting to the point where you would rather move on to something new. Since your monthly payments can outpace the depreciation of some vehicles, you can find yourself having a balance for an auto loan or lease that is more than the what the car is worth. There are positive and negative equity positions, and this would be considered a positive equity position since you have paid more than what it is worth. At Ourisman Honda of Tysons Corner, it's possible to use that equity you've gathered for your Honda payments to trade it in for the upfront costs of a new Honda. If this is the case for you, then Trade-Up your Honda for a new Honda with all the latest features.

How do you go about the Trade-Up process for a new Honda? When you come to our location to buy or lease a new vehicle, we use highly sophisticated software to analyze the remaining lease or loan balance that you have. From there, we check current manufacturer incentives and current market values for used cars. By interpreting all this information, we can determine if your Honda or other used vehicle has a positive equity position. The best way to see if your vehicle qualifies is by contacting us so that we can get the process started.
There are plenty of reasons why you may want to part with your current car. Maybe the warranty of your Honda has expired or it's nearing its expiration date and you want the assurance that comes with a robust warranty. Perhaps you want to avoid repairs that are just around the corner. Like many drivers, you may just want to benefit from Honda's outstanding technology and safety features. Whatever the reason may be, you will find plenty of benefits when you Trade-Up your current vehicle. When you decide to Trade-Up, you will also discover that you are in good hands. You can expect to find Trade-Up Specialists at our location that know all the ins and outs of the Honda Vehicle Trade-Up process and will make it easy, transparent, and quick. We're here to help you find a new sense of convenience and opportunity, so contact us today to find out how your ownership experience can change when you choose to Trade-Up!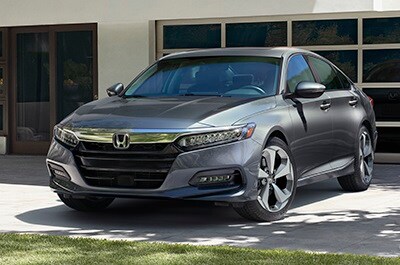 Ask Us About Honda Trade-Up